Joe Recchia - Accordionist Performer, Promoter, Accordion Technologist & President of the Michigan Accordion Society http://www.michiganaccordion.org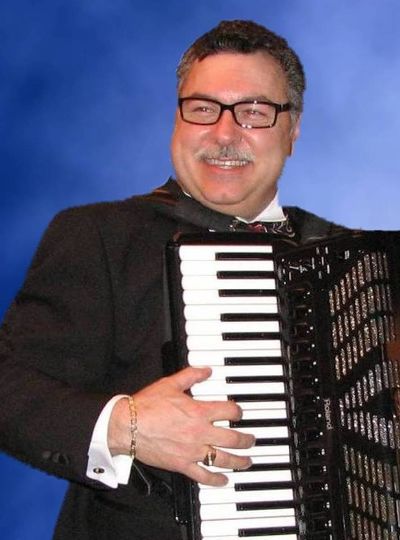 Joe's makes his home in the suburbs of Detroit, Michigan and comes from a fantastic family legacy of fine Accordionists.  Joe has performed throughout the US, Canada & Europe and aboard the Princess Cruise Ship lines performing a wide variety of venues. 
Joe's style is very versitile, performing Ethnic, French, German, Polish styles and specializes in Italian Music.  He also enjoys playing Jazz, Blues, Folk, Country and Rock venues with his accordion as well.
Joe performs in various band's and orchestra's and is one of the few Accordionists in Detroit who is hired for studio work.  He also performs as a strolling accordionist at many public and private venues and also teams up with many famous Detroit area musicians Violinist, Mandolinists and singers such as Aaron Caruso, Lisa Agazzi, Dolores Reyes Aqunio, Eva Evola, Dino Valle, Mark Randisi and has even performed with famous Italian singer, actress & producer Simona Radona.  Joe has also performed in various orchestras nationally such as the National Accordion Orchestra, The Gene Van Accordion Orchestra as well as the Joann Sommer's Accordion Orchestra which premiered in Las Vegas and Chicago alongside "ANIMA" which is a world renowned youth choral.  Locally Joe has been a featured artist with the Warren Concert Orchestra and was able to perform and meet Famous  Conductor Johan De Meij, as well as The Simone Vitale Orchestra and several other Italian Orchestras.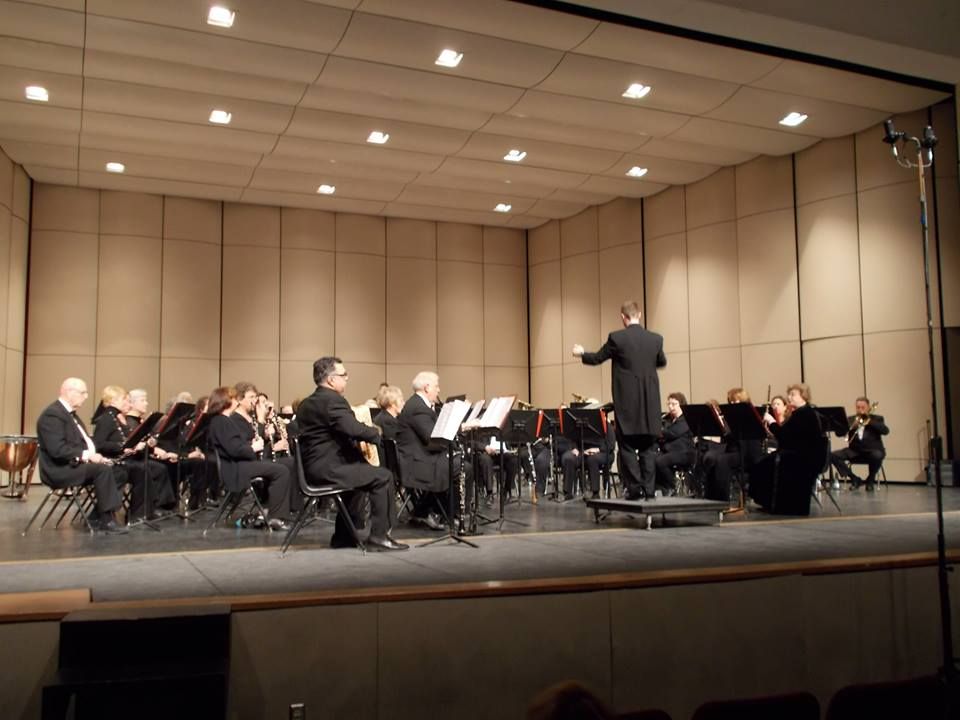 Joe was a featured performer with the Warren Concert Orchestra performing in Okemos, Mi at the Red Cedar Festival
Joe is the only Accordionist to perform on the House of representatives floor at the Michigan State Capitol Building and he has also appeared on several Radio and TV stations with his Accordion.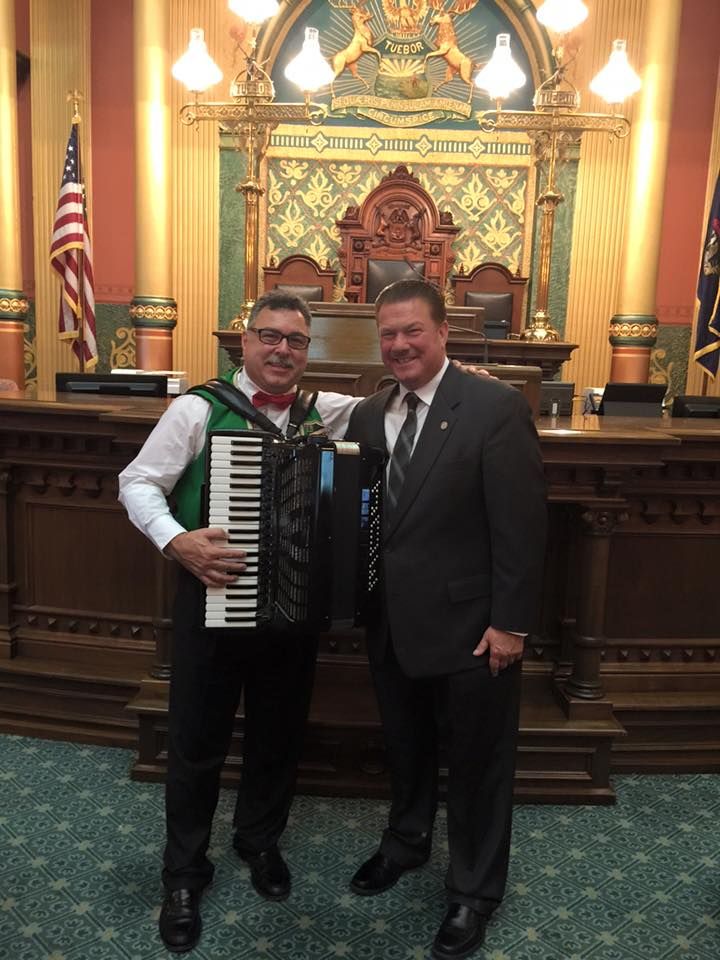 With Michigan State Senator www.senatorpetelucido.com On the House of Representative Floor at the Michigan State Capital Building in Lansing, MI.   State Capitol officials advised this was the first time an Accordion was ever seen on the house floor!
Joe has won many state and national music awards over his career for his accordion performances and was also lucky enough to meet and spend much time with many world famous accordionists such as Charles Maganante, Myron Floren, Frank Morocco, Dick Contino, Pete Barbudi, Art Van Damme, Carl Fortina, Joe Cerrito, Peter Soave, Cory Pesaturo as well as many other famous musicians such as Oscar Peterson, Count Basie, Ralphe Armstrong, Hubie Crawford, Johnny Trudell, Michele Ramo, The Primo Family and many others.
Joe's accordion DNA comes from a long line of famous accordionists; for many years his grandfather was Henry Ford's personal accordionist and music director at the Ford Mansion in Dearborn, MI and was labeled as "The Famous Accordionist of the Ford Motor Car Company".  His uncle Tony Dannon world famous Jazz Accordionists, teacher, composer, promoter as well as one of the owners of the "Modern Accordion School" in Dearborn Michigan which was well known for the most successful accordion school in the nation.  His cousin also an accordionist is baseball legend hall of famer and former Atlanta Braves Pitcher John Smoltz.  His Aunt Lillian DiMara was one of the famous Italian singing trio's "DiMara Sisters" from Northern Italy.
Joe often teams up with Violinist, Madolinist, Pianists and Singers, below are a few of the artists that Joe often works with.......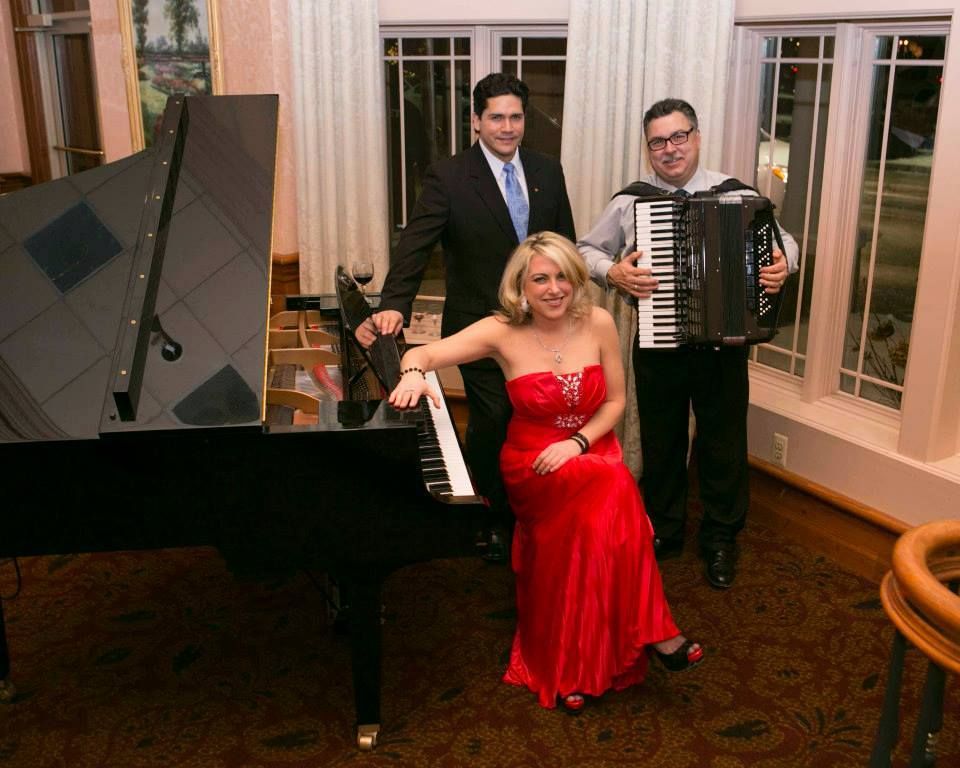 With Singer Aaron Caruso and Pianist and Singer Noelle Morabito, Great Trio which adds both a Traditional and elegant touch
---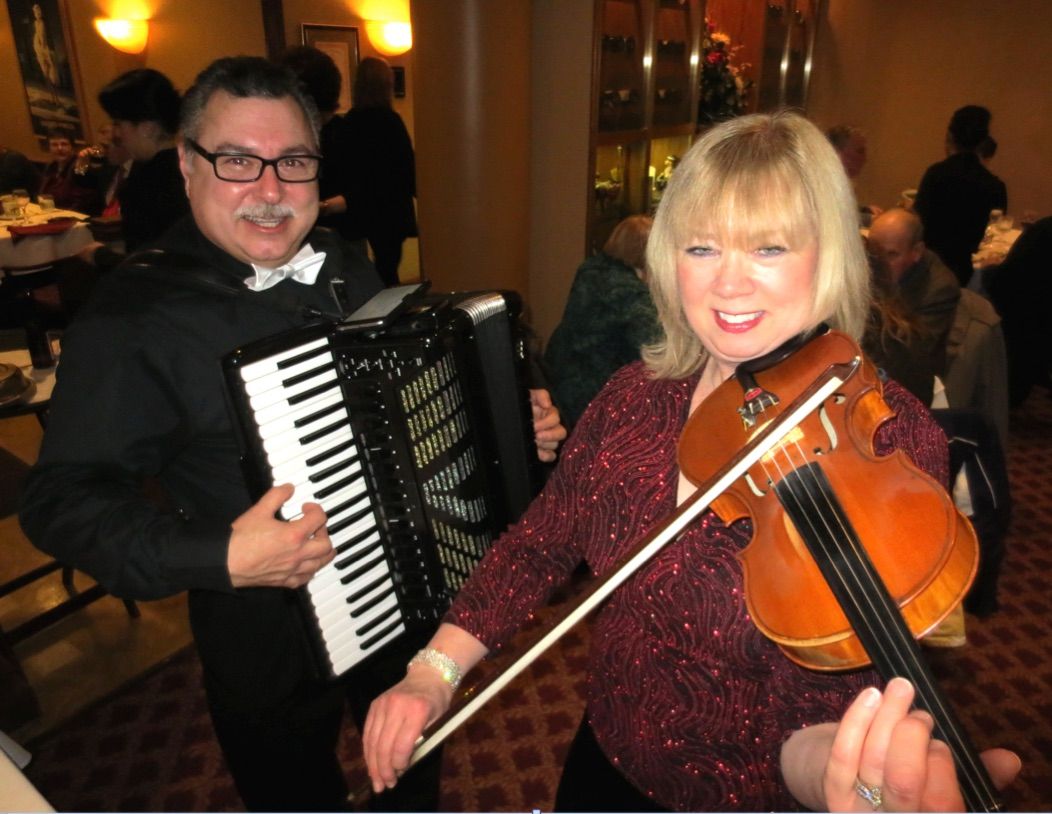 With Violinist and Singer Sue Pinto, Wonderful Duo that provides a touch of class to any festive occasion
---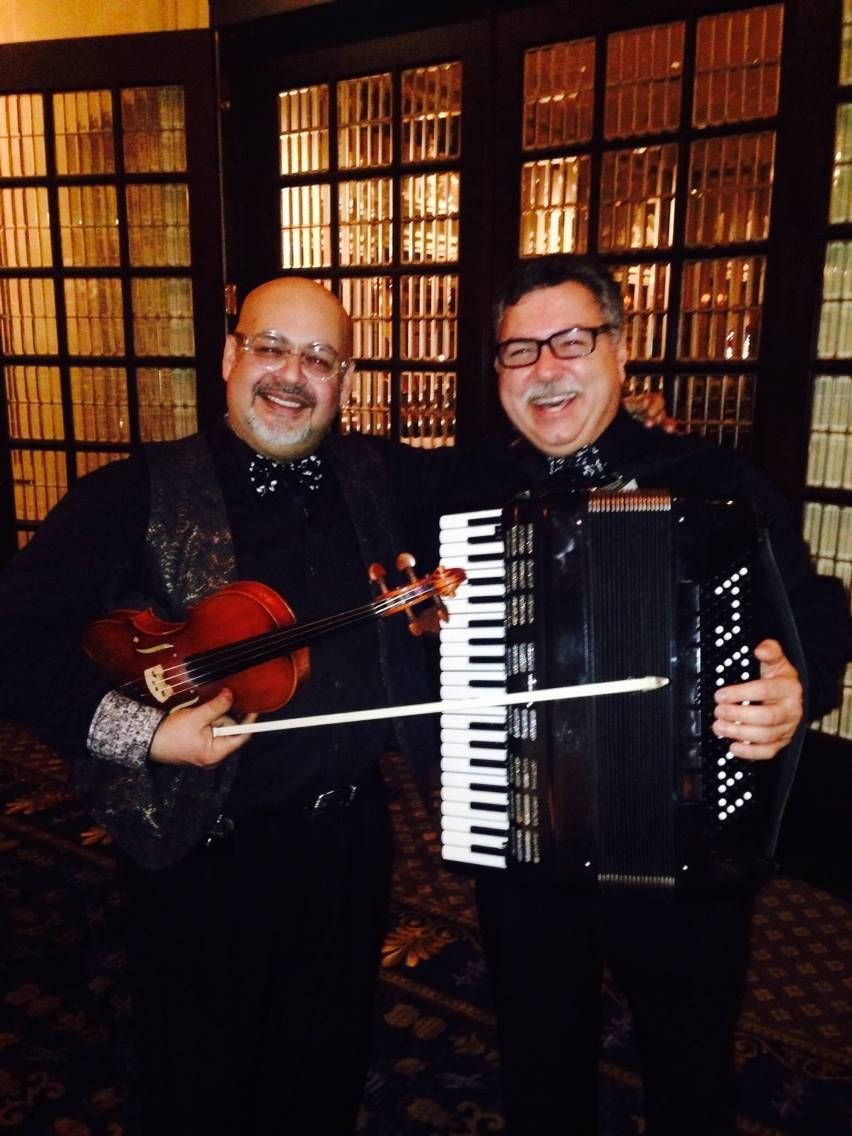 With Violinist, Michele Ramo performing at the Detroit Athletic Club, Detroit, MI
---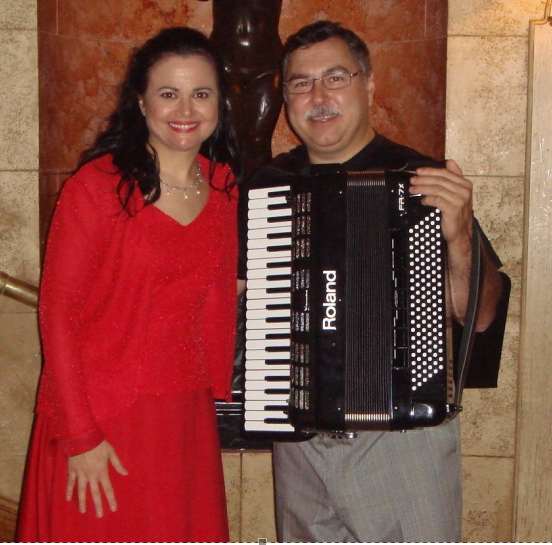 With Mezzo Soprano Lisa Agazzi, Strolling at the Grosse Pointe Yacht Club.  Wonderful Duo that provides beautiful Ambiance of Italian Classics & Famous Aria's
---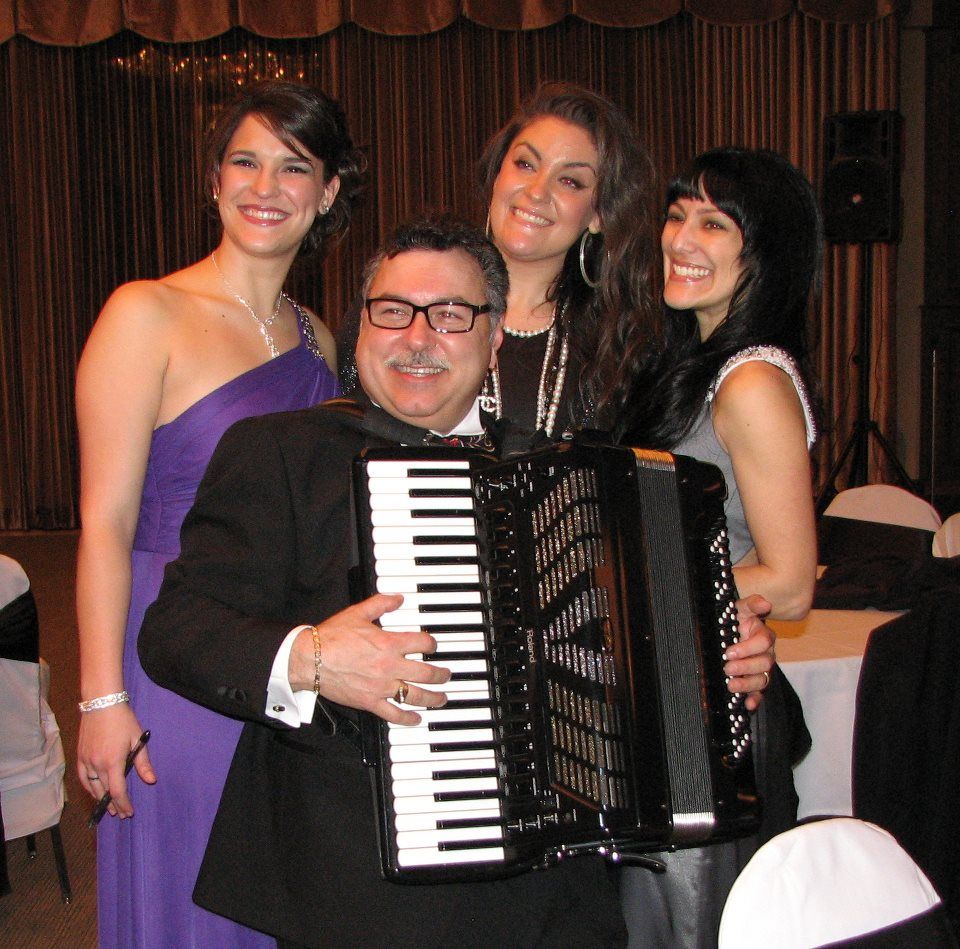 With Singers (photoed left to right)  Ashley Ault from Lansing Michigan, Cristina Carollo from Terrasini, Sicily and Dolores Aquino from Troy, Michigan
---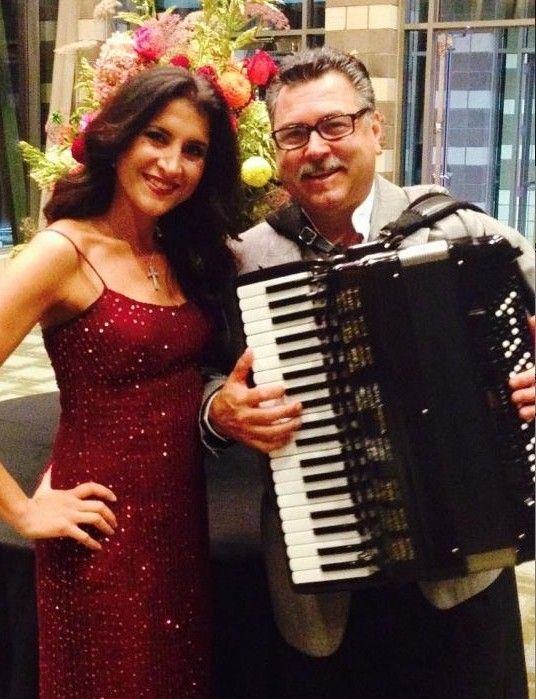 Performing at Children's Fund Raiser event in Troy, MI with Columbus Day Woman of the year, Actress and Soprano Great...Eva Evola
---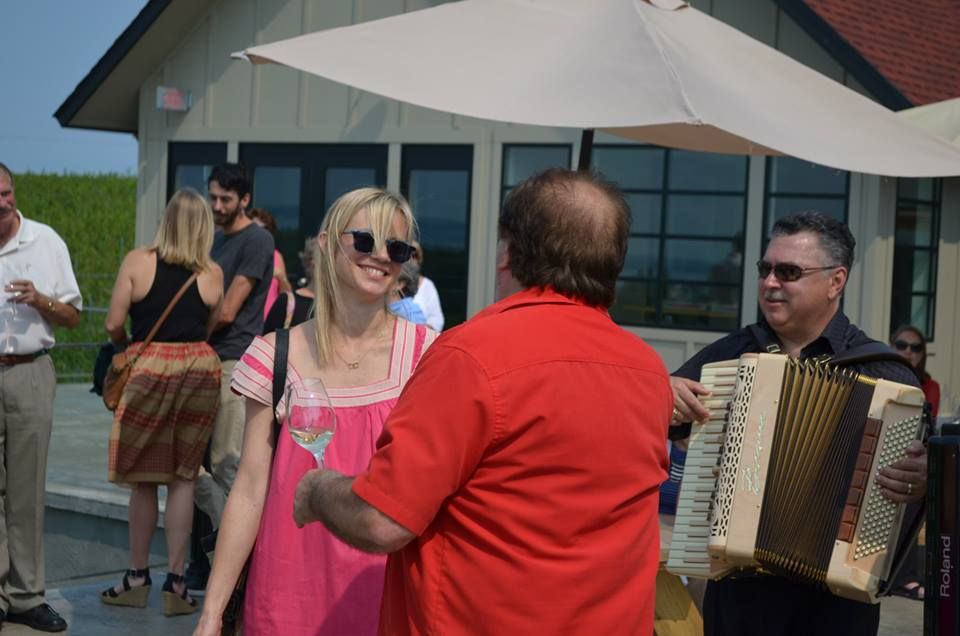 Performing for Hollywood Actress & Director Ms. Amy Smart along with Baritone Singer Mr. Dino Valle at Bonobo Winery on Mission Point in Traverse City, MI
Joe currently holds the office as President of the Michigan Accordion Society. He is a dedicated ambassador and promoter for the accordion and the Michigan Accordion Society, the very same society his uncle Tony Dannon helped founded back in 1996.  Joe's direction and leadership has resulted in earning the most coveted international accordion club "Frosini Award" which was awarded to the Michigan Accordion Society as the "Best Accordion Society in the World" at the International Accordion Convention in Las Vegas, NV.
Just as his grandfather and uncle had done, Joe continues the family legacy and has performed for many prominent people, such as Edsel and Cynthia Ford at he Ford Mansion, Former CEO of Chrysler and Ferrari Mr. Sergio Marchinonne, The Fieger Family, Dick Contino, Italian Consulate President Dr. Marco Nobili, Famous Detroit Area Automotive Sculptor Guliano Zuccato, Buddy Valestro aka "The Cake Boss" at the Palace of Auburn Hills, various sports figures and for many executives at many prestigious automotive firms such as Delphi Corporation, Fiat & Chrysler Corporation and the Ford Motor Company both in the US and in Europe.
Joe gives back to the community and has been involved with many fund raiser activities that have helped raised over $100,000.00, which have benefited organizations such as the Capuchin Soup Kitchen in Detroit Michigan, Capuchin Retreat Center in Washington Michigan and various cancer research organizations as well as Music Scholarship program for kids in his community.  Joe is also a delegate for the Santino"s Knight for Father Solanus Casey.  Joe has performed for many other organizations to help raise money for various causes while helping to keep the culture of the accordion alive in his community.  He has performed for the Grosse Pointe Yacht Club, Grosse Pointe Historical Society, University of Michigan Rackham Choir, Warren Concert Orkestra as well as the Michigan Accordion Society alone which raised nearly $30,000.00 for the "Tony Dannon Student Music Scholarship Fund" for more information on the "Tony Dannon Scholorship Fund" please visit http://www.michiganaccordion.org/dannon.html